NSF ADVANCE at Lamont
Funded by a $4.2 million National Science Foundation (NSF) grant, the mission of the ADVANCE program at the Earth Institute at Columbia University (2004-2009) was to increase the recruitment, retention, and advancement of women scientists and engineers at Columbia University through institutional transformation. To achieve this mission, Columbia's ADVANCE team worked toward the following goals:
1. Change the demographics of the STEM community at Columbia through innovative hiring practices and by targeting emerging and established women and minority leaders.
2. Cultivate an environment that fosters and attracts diverse leaders in science and engineering.
3. Stimulate an institutional cultural shift based on social science research about gender and race.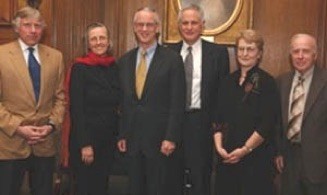 The ADVANCE program was hailed as a success, and reflects the direction in which Columbia is headed over the next several years in its commitment to diversity. The Diversity Statement for Affirmative Action included the following about our ADVANCE program: "…We are especially proud of the Columbia Earth Institute's ADVANCE program, funded by the National Science Foundation, which has dedicated resources to attracting and advancing women scientists and engineers.
2005 ADVANCE WORK ENVIRONMENT SURVEY
In the spring of 2005 ADVANCE administered a work environment survey in order to identify specific areas in need of change and to establish a baseline against which to measure future progress. The individuals surveyed were male and female scientists at various units at Columbia (LDEO, CIESIN, IRI, Fu Foundation SEAS, Barnard College, Mailman School of Public Health). This survey had five major sections:
Professional Employment  (current CU position, research, teaching, service and any other administrative activities)

Work Environment (work climate, career advisement, and institutional environment)

Diversity Issues at CU (including gender and ethnic diversity and satisfaction with CU)

Personal Life (work-life balance, child care, elder care, and other concerns)

Demographics
RESULTS
The findings showed that the overall demographics of the Lamont research population lacked a critical mass of women in the senior ranks. This was comparable to most other physical science departments in other  universities. At Lamont, approximately 20% of research scientists were women.  That proportion declined as rank increased. Although both men and women agree that the research environment can be inherently competitive and even confrontational, women respondents consistently reported experiencing a more difficult work environment than men.  Indicators associated with this assessment include:
Women scientists report receiving less respect fromcolleagues and perceive departmental / unit processes as less fair than their male colleagues. The most common negative response among women to an open-ended question about the work environment was the hierarchy between officers of instruction and officers of research.

Women are more likely to report experiencing gender-related discrimination and adversity.  They are three times more likely than men to report hearing disparaging remarks about gender and family responsibilities.  

In general, men and women do not strongly believe that diversity is a goal of their department / unit.

Over half of female respondents reported that their family responsibilities hindered their career advancement.  Women are twice as likely as men to report that they have missed opportunities to speak or attend conferences because of family responsibilities.
The survey results indicate relatively few gender differences in some aspects of the Lamont work environment. Indicators associated with this assessment include:
Regardless of gender, the high quality of the research staff can be inferred from the significant proportion of scientists who have been approached with outside offers.  Women and men were equally likely to translate an outside offer into a promotion or pay raise.

There were no significant differences in the work activities which scientists engaged in.  Research-related activities comprised more than 2/3 of the total work effort of both men and women.  Men and women also report ed similar participation as members and chairs of institutional committees as well as national or international committees.

Responses to the open-ended questions indicate that both men and women find the Lamont environment to be intellectually stimulating.
NOTE: Following the 2005 NSF-ADVANCE survey, in 2015 the Lamont Campus Life Committee, in conjunction with the Office of Academic Affairs and Diversity, conducted the 2015 Lamont Campus Life and Work Environment Survey.